Tracking Asian Integration
Asia's Free Trade Agreements continue to make progress
Asia's free trade agreements (FTAs) now stand at 215, up from only 124 ten years ago (Figure 1). FTAs appear to be the shape of things to come for Asia given the slow progress of the World Trade Organization (WTO) Doha Round in delivering a global trade deal. Consider the Trade Facilitation Agreement (TFA) of the so-called 'Bali Package' which forms part of the Doha Round. Signed in 2013, the TFA is expected to give a $1 trillion boost to world economy once implemented.  Yet two years after, only 16 out of 161 WTO members have ratified the agreement, a far cry from the two-thirds of members (roughly 108) needed for TFA to come into force.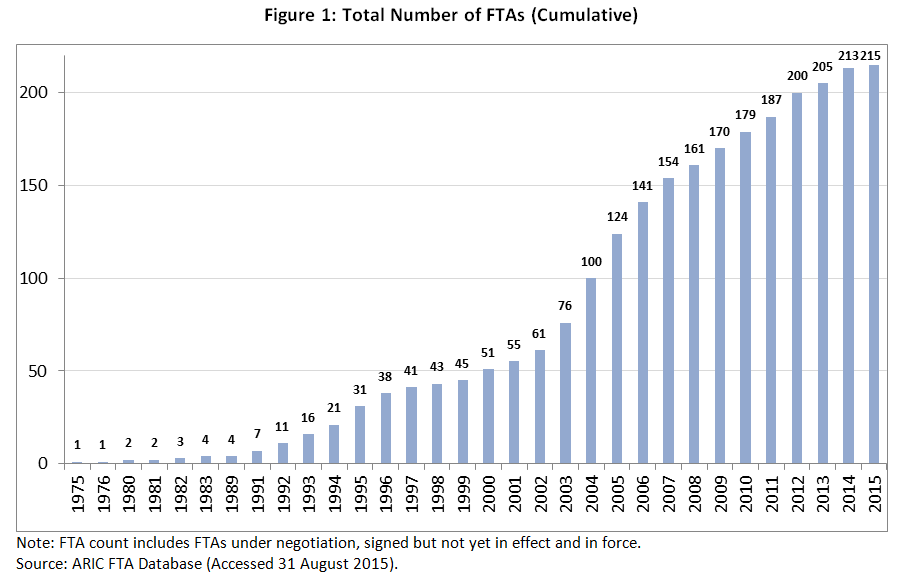 This makes FTAs the next best route towards securing the benefits of greater trade and economic integration. FTAs do more than just remove tariffs. They also take on behind-the-border barriers to trade such as import bans, competition policies, unreasonable product standards, and other measures that make trade difficult and costly, if not impossible. FTAs also address other trade matters such as intellectual property, e-commerce, government procurement, and trade facilitation. FTAs that cover these features in a meaningful and comprehensive manner not only provide significant economic gains to FTA partners but also promote global trade liberalization consistent with the ideals of the WTO.
Although the increase in the number of FTAs appears to be hitting a plateau in recent years—unlike the double digit growth in the early 2000s—Asia's FTAs continue to make progress this year. In fact, in the first month of 2015 alone, three major FTAs have come into force namely, Eurasian Economic Union (EEU), Republic of Korea-Canada Free Trade Agreement (KCFTA), and Japan-Australia Economic Partnership Agreement (JAEPA).
EEU members Armenia, Belarus, Kazakhstan, Russian Federation, and the Kyrgyz Republic, which ascended into EEU this August, now enjoy free movement of goods, services, capital and labor among their borders. KCFTA, Canada's first FTA with an Asia-Pacific economy (i.e. Republic of Korea), is a landmark agreement that secures significant benefits for both partners. It liberalizes more than 90% of their tariff lines and covers virtually all aspects of their trade such as trade in services, investment, and government procurement. Under JAEPA, 97.5% of the value of Japanese imports will receive preferential tariff treatment while tariffs on 82.7% of Australia's merchandise imports are liberalized upon entry into force.
On top of these FTAs, ten other FTAs have made progress in 2015—one has come into force, six have been signed and currently awaiting ratification by FTA partners' respective governments; two have launched negotiations while another has been concluded (Table 1).  Of these, the Rep. of Korea and the People's Republic of China (PRC) are involved in four FTAs each, making these East Asian economies important players in Asia's FTA landscape.
Meanwhile, Viet Nam is involved in three FTAs that have reached milestones this year. Its active pursuit of FTAs is a notable development. Its FTA initiatives independent of the Association of Southeast Asian Nations (ASEAN), which counts Viet Nam as a member, started fairly recently when it entered into a bilateral FTA with Japan in 2008. Prior to that, Viet Nam relied on the ASEAN for its participation in FTAs.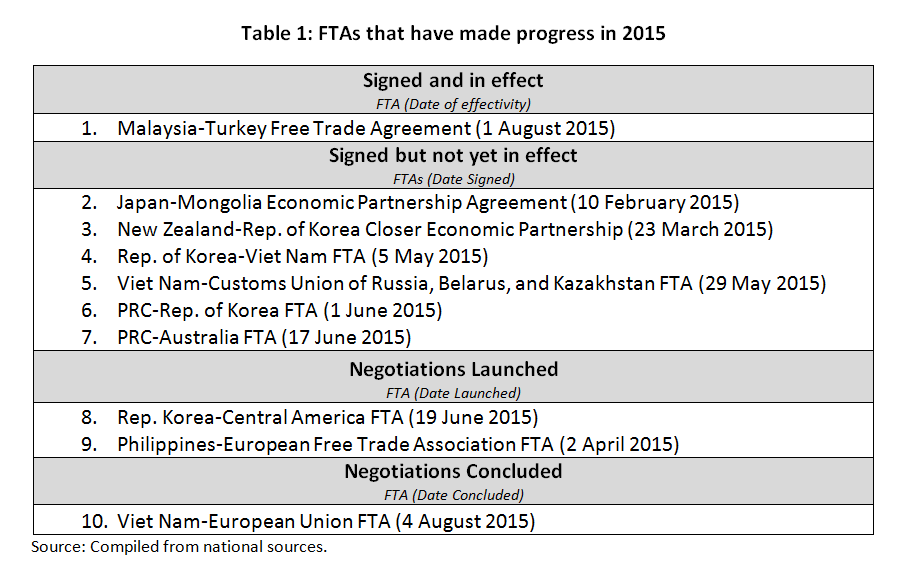 After four years of intense negotiations, the Malaysia-Turkey FTA has come into force on 1 August, providing duty-free treatment to Malaysia's key exports to Turkey, which include textiles and apparel, iron and steel products, leather products and all rubber products.
The newly created EEU signed its first ever FTA with Viet Nam, one of the fastest growing economies in the world. Not to be left behind, the European Union has also concluded negotiations with the latter. The European Free Trade Association has entered into FTA negotiations with the Philippines, another fast-growing Asian economy. Central America, which constitutes Guatemala, Nicaragua, El Salvador, Honduras, Costa Rica and Panama, has started negotiations with the Rep. of Korea, which already has FTAs with Latin American countries Chile and Peru, respectively.
A quick look at Table 1 reveals an emerging trend in Asia's FTAs—half of FTAs that have made progress involve non-Asian partners. This means that Asia's FTAs are not only increasing in number but also expanding in geographic scope outside the region. Although this trend is noteworthy, it is not surprising given Asia's solid economic performance and positive economic outlook. Recently, IMF Managing Director Christine Lagarde called Asia the "key source of global growth".
The rest of the world can reap gains in forging stronger ties with Asia through FTAs and unlock the benefits of trade and cooperation through access to export markets and investment opportunities in emerging Asian economies that benefit from young populations and a growing middle class. In turn, Asian economies benefit from a greater variety of goods and services at competitive prices and more jobs arising from higher investments.
A number of FTAs has also been proposed as of August 2015. PRC has officially launched feasibility studies on a possible FTA with Maldives and Georgia while Jordan is considering an FTA with Thailand. Other Asian economies have also expressed interest in pursuing FTA dialogues. The Philippines is in FTA talks with Canada, Mexico, and Chile, while Japan and Sri Lanka are planning to forge one. The EEU has discussed the possibility of signing a free trade deal with Iran while the latter has proposed an FTA with India to boost bilateral trade and investment.
Since 2006, the Asia Regional Integration Center (ARIC) FTA database has monitored the rise of FTAs in Asia. At present it keeps tabs of the progress of 67 proposed FTAs, 67 that have started negotiations, and 14 that have been signed but not yet in effect. While Asia now has 134 FTAs in force, the total number of FTAs currently in the works which stands at 148 means that we can expect more FTAs to come into effect in the near future. This only shows that while a WTO global trade deal still has a long way to go, Asian economies are taking the short-cut route FTA offers to secure the promised gains of freer trade and greater economic integration.
*
The views expressed in this blog post are the views of the author and do not necessarily reflect the views or policies of ARIC, the Asian Development Bank (ADB), its Board of Directors, or the governments they represent. ARIC does not guarantee the accuracy of the information and data included in this blog post and accepts no responsibility for any consequences of their use. Terminology used may not necessarily be consistent with official ADB terms.