Tracking Asian Integration
Is Indonesia up for the ASEAN economic community 2015?
When the ASEAN Economic Community (AEC) comes into being, Indonesia is in a position to reap important economic gains. Following its recovery from the 1997 Asian Financial Crisis, its economy has been growing at an average of more than 5%. By the end of 2011, its Gross Domestic Product (GDP) (in purchasing power parity terms) was $1,123.5 billion. Its economic performance is bolstered by a young labor force, ample natural endowments, a growing middle class, a large domestic market, and relatively stable financial institutions. Given these positive characteristics, access to a single market in ASEAN can further improve export performance and spread development gains more broadly within Indonesia.
Yet, a 2012 McKinsey study took a cautious view that while Indonesia has the potential to become the 7th largest economy in the world by 2030, there are some key challenges that it must first resolve. Is Indonesia in a position to surmount these challenges? Or will the potential of the AEC remain unrealized for Southeast Asia's largest economy?
The potential of the ASEAN Economic Community
The goal of the AEC is to further regional economic integration. It aims to accomplish this by freeing up the flow of goods, services, investment, and skilled labor, and allowing freer movement of capital. This will establish a single market and production base in the Association of South East Asian Nations (ASEAN).
Yet, gains for Indonesia will not come automatically in part, because the driving force behind ASEAN integration is not only market integration, but also production integration. This is illustrated by the fact that intermediate goods top both export and import flows in the region (see Figure 1). In order for Indonesia to present investors with a competitive domestic environment it must calibrate its trade and investment policies to attract the types of investors involved in existing regional value chains.
Figure 1. Top 20 Export and Import Commodities of ASEAN Member States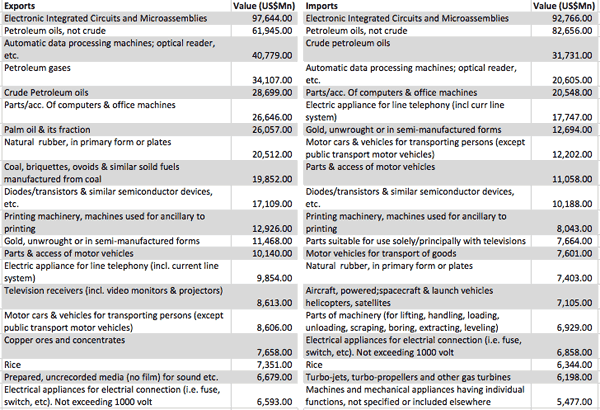 Source: ASEAN Secretariat. 2011. ASEAN Community in Figures 2011. Jakarta, Indonesia.
Improvements to Indonesia's investment climate are needed to reach this potential
Pro-business measures can address some of the critical bottlenecks that currently constrain foreign direct investment (FDI). Existing challenges include a low capital stock, limited infrastructure, corruption, decentralization issues, legal uncertainty, low value-added investment, and counter-productive measures to investment.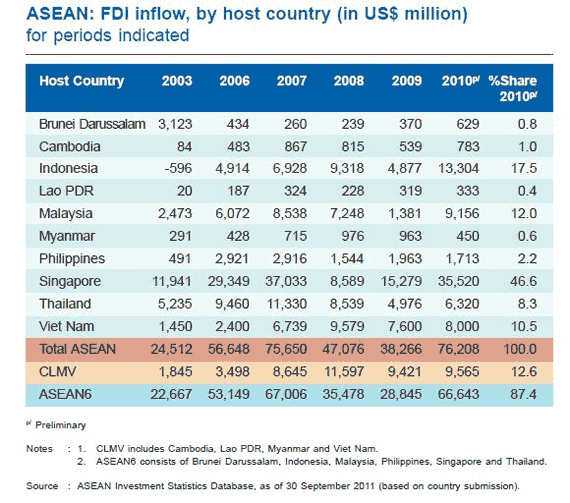 One key improvement to the business climate is the upgrading of existing physical infrastructure. This can facilitate smooth and cost-efficient flows of goods, services, investment and capital both domestically and internationally. These measures can address issues associated with Indonesia's relatively low capital endowment, which limits economic productivity. Figure 2 illustrates the relative lack of FDI within ASEAN that flows to Indonesia. In 2010, Indonesia received only 17.5% of the total inflows of FDI into ASEAN, in contrast to 46.6% received by Singapore.
In addition to physical infrastructure, soft infrastructure such as stronger protection for foreign investors must also be considered. Indonesia is a signatory to more than 50 bilateral investment treaties and some regional investment agreements—ASEAN Comprehensive Investment Agreement, ASEAN-Japan Comprehensive Economic Partnership, ASEAN-Korea Free Trade Agreement, ASEAN, Australia, New Zealand Free Trade Agreement, and ASEAN-China Free Trade Agreement. Many of these include commitments to build such infrastructure.  But in addition to meeting its international and regional obligations, the government must also address more sensitive problems such as corruption and legal uncertainty.
A third measure that Indonesia can take to capture benefits from the AEC is to support regulations to ensure "fair play" among Member States. Such regulations would prevent unfair trade practices, such as dumping and subsidization. This is needed because some of the products traded among ASEAN member states are competitive with Indonesia's current export basket. Thus the creation of the ASEAN single market with free flow of goods can create conditions that favor unfair trading practices.
The realization of the AEC certainly portends great opportunities for Indonesia as well as other ASEAN Member States. If Indonesia is able to make some improvements to its domestic business environment, this can ensure that the new regional trading environment will enhance its existing domestic strengths.
The views expressed in this blog post are the views of the author and do not necessarily reflect the views or policies of ARIC, the Asian Development Bank (ADB), its Board of Directors, or the governments they represent. ARIC does not guarantee the accuracy of the information and data included in this blog post and accepts no responsibility for any consequences of their use. Terminology used may not necessarily be consistent with official ADB terms.