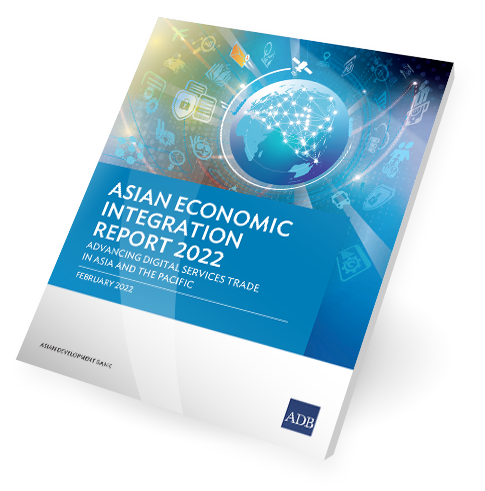 Asian Economic Integration Report 2022
Advancing Digital Services Trade in Asia and the Pacific
Another year into the COVID-19 pandemic, the Asia and Pacific region has made commendable efforts to contain the pandemic, protect people's lives and livelihoods, and minimize economic impact. Fragile and uneven economic recovery continues in the region on the back of increased vaccine rollouts and policy support. AEIR 2022 provides a comprehensive review of the region's cross-border activities and the progress of regional cooperation and integration in the areas of trade and global value chains, cross-border investment, finance, migration, and tourism. The report also features a theme chapter entitled "Advancing Digital Services Trade in Asia and the Pacific", which highlights how rapid digitalization spurs the growth of digital services trade and discusses various ways for Asian economies to capitalize on new opportunities through structural reforms and international cooperation.
Sustained economic recovery post-COVID-19 requires stronger regional cooperation, particularly through information sharing and other health control measures (such as cross-border travel requirements, and vaccinated travel lanes), to prevent flare-ups.




Asia's merchandise trade continued to grow rapidly in 2021, after demonstrating strong resilience amid the pandemic in 2020. Intraregional trade linkages and regional value chains also deepened, driven mainly by the stronger supply chain linkages in high and medium tech industries and supported by the early economic recovery of the People's Republic of China from the pandemic.




FDI in Asia and the Pacific proved resilient to COVID-19, despite declining global trends. Estimates for 2021 show signs of recovery, with intraregional linkages and investments in the services sector among key growth factors. FDI can be a driver to foster digital services trade in the region.




In 2020, Asian investors continued to invest more outside the region than inside. Around two-thirds of Asia's asset and liability holdings were placed in economies outside the region. Nonetheless, total capital inflows in the region remained robust during the pandemic, despite increase in volatility of portfolio equity inflows.




As the pandemic continues to transform international migration and the mobility of people, remittances declined in 2020 with upside potential expected in 2021. Recurrent outbreaks made it challenging for the tourism sector to experience growth and recover.




Rapid digitalization amidst the pandemic is spurring the growth of digital services trade around the globe. At the forefront is the Asia and Pacific region demonstrating the highest growth in digital services trade.



ASIA REGIONAL INTEGRATION CENTER
© 2015
Asian Development Bank
. All rights reserved. Reproduction in whole or in part without permission is prohibited.
About us
The Asia Regional Integration Center (ARIC) is an ongoing technical assistance project of the
Economic Research and Regional Cooperation Department

(

ERCD

)
. Following the 1997/98 Asian financial crisis and the contagion evident around the region, ADB was asked to use its knowledge-based expertise to help monitor the recovery and report objectively on potential vulnerabilities and policy solutions. With the ASEAN+3 process just starting, ADB provided technical assistance beginning in 1999—to create the Asia Recovery Information Center, the precursor to ARIC.
Contact us
Please help us improve the ARIC website by sending us your comments. These may be on content, (e.g., articles posted on or for which links are provided in the ARIC website), website structure (e.g., do you find ARIC's sections useful?), ease of navigation, or even page design and layout.

Send all your comments to: aric_info[at]adb.org