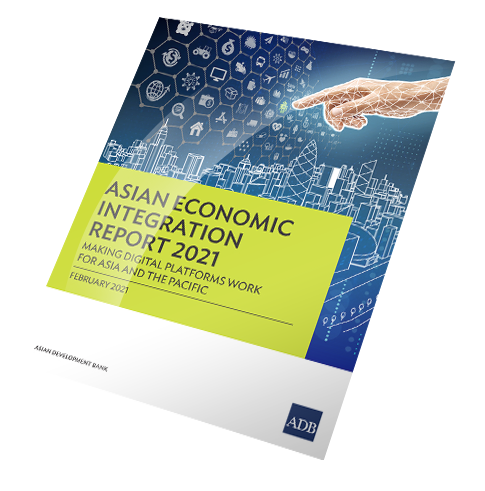 Asian Economic Integration Report 2021
Making Digital Platforms Work for Asia and the Pacific
The COVID-19 pandemic disrupted both supply and demand sides of an interconnected world economy during 2020. Asia and the Pacific was not immune as lockdowns and travel and trade restrictions affected nearly all aspects of cross-border economic activity. The Asian Economic Integration Report (AEIR) 2021 examines the initial impact on trade, investment, finance, and people's mobility across the region as the pandemic struck. The report looks at how regional economies individually or collectively respond to the crisis by, for example, leveraging rapid technological progress, digitalization, and increasing services trade to reconnect and recover. This year's AEIR theme chapter is on digital platforms and how they can accelerate digital transformation across the region.
With the rise of digital platforms, new business models have proliferated, offering enormous economic opportunities.




The COVID-19 pandemic is accelerating the digital transformation for businesses of all sizes and across all industries.




COVID-19 has weighed heavily on health and economic systems worldwide; it severely disrupted Asia's cross-border trade and economic activities, and exposed vulnerabilities of global supply chains.




The pandemic caused investment flows to plummet globally through March 2020. Asian economies were among the hardest hit globally in reduced FDI inflows during the first quarter of 2020.




COVID-19-induced economic slowdowns in the first quarter of 2020 led to a shift in investor risk appetite and increased financial volatility; this resulted in a flight to safety and tightened liquidity conditions for emerging market economies.




Tourism has been particularly hard hit by the pandemic; extensive travel restrictions and the fear of infection led to a sharp fall in international tourist arrivals in Asia.




AEIR 2021's theme chapter analyzes the rise, opportunities, and challenges of digital platforms in the Asia and Pacific region, including their applications in response to the COVID-19 pandemic.

Transcript:

The COVID-19 pandemic is accelerating digitalization, transforming how we work, socialize, and create economic value.

Today, tech companies play a leading role in the global economy.

They optimize business operations to expand markets, connect people, and empower small businesses.

Digital platforms also deliver essential services—including critical ones like health and education.

They provide credit to SMEs by utilizing data on their operations.

They also create entirely new jobs—unheard of just a few years ago.

Consumers, businesses, households, and governments alike enjoy many benefits from digital platforms.

However, digital platforms disrupt markets and businesses.

Increasingly, online businesses contribute to shop closures and the loss of jobs.

They also create gig-work with little job security or protection.

Regulators still need to resolve tax leakages.

And big tech erodes domestic competition for some countries.

There are issues surrounding loss of privacy, cybersecurity, and misinformation.

Also, the gap between the tech-haves and the tech-have-nots could exacerbate inequality.

Internet access must be made more inclusive across developing Asia.

Closing the digital divide, particularly for women and the elderly, is critical.

How can we all work together to ensure digital platforms promote inclusive development in Asia and the Pacific?

To find out, read the latest Asian Economic Integration Report.


ASIA REGIONAL INTEGRATION CENTER
© 2015
Asian Development Bank
. All rights reserved. Reproduction in whole or in part without permission is prohibited.
About us
The Asia Regional Integration Center (ARIC) is an ongoing technical assistance project of the
Economic Research and Regional Cooperation Department

(

ERCD

)
. Following the 1997/98 Asian financial crisis and the contagion evident around the region, ADB was asked to use its knowledge-based expertise to help monitor the recovery and report objectively on potential vulnerabilities and policy solutions. With the ASEAN+3 process just starting, ADB provided technical assistance beginning in 1999—to create the Asia Recovery Information Center, the precursor to ARIC.
Contact us
Please help us improve the ARIC website by sending us your comments. These may be on content, (e.g., articles posted on or for which links are provided in the ARIC website), website structure (e.g., do you find ARIC's sections useful?), ease of navigation, or even page design and layout.

Send all your comments to: aric_info[at]adb.org