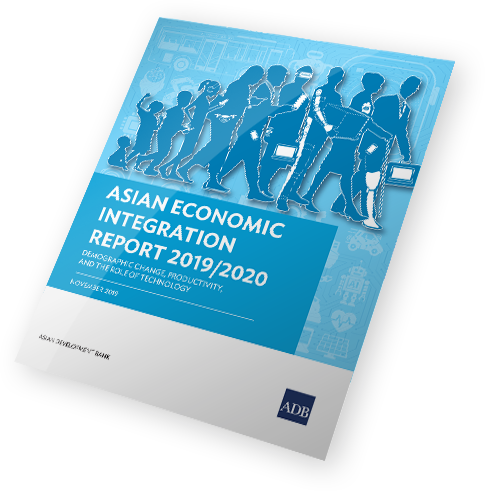 Asian Economic Integration Report 2019/2020
Demographic Change, Productivity, and the Role of Technology
The Asian Economic Integration Report is an annual review of economic cooperation and integration that covers the 49 members of ADB in Asia and the Pacific. It documents progress made in trade and global value chains, cross-border investment, financial integration, the movement of people, and subregional cooperation. The theme chapter of this year's report explores the potential of technology to boost productivity in aging economies. It also discusses how innovations can help turn demographic challenges into opportunities.
Older workers in Asia are now healthier with an average healthy life span (expectancy) of 63.8 years in 2017, from 57.2 years in 1990.




Older workers in Asia are now more educated. The average years of schooling of 55 to 64-year olds rose from 4.6 years during in 1990 to 7.8 years in 2015.




Asia remained top contributor to global trade as its regional value chains deepened.




Asia continues to be an attractive FDI destination as well as a formidable source of global FDI.




Portfolio debt investment grew moderately, and portfolio equity investment contracted, but banking activities hit a record high.




Remittance inflows into Asia reached $302 billion in 2018, accounting for 44% of global remittance inflows.



ASIA REGIONAL INTEGRATION CENTER
© 2015
Asian Development Bank
. All rights reserved. Reproduction in whole or in part without permission is prohibited.
About us
The Asia Regional Integration Center (ARIC) is an ongoing technical assistance project of the
Economic Research and Regional Cooperation Department

(

ERCD

)
. Following the 1997/98 Asian financial crisis and the contagion evident around the region, ADB was asked to use its knowledge-based expertise to help monitor the recovery and report objectively on potential vulnerabilities and policy solutions. With the ASEAN+3 process just starting, ADB provided technical assistance beginning in 1999—to create the Asia Recovery Information Center, the precursor to ARIC.
Contact us
Please help us improve the ARIC website by sending us your comments. These may be on content, (e.g., articles posted on or for which links are provided in the ARIC website), website structure (e.g., do you find ARIC's sections useful?), ease of navigation, or even page design and layout.

Send all your comments to: aric_info[at]adb.org