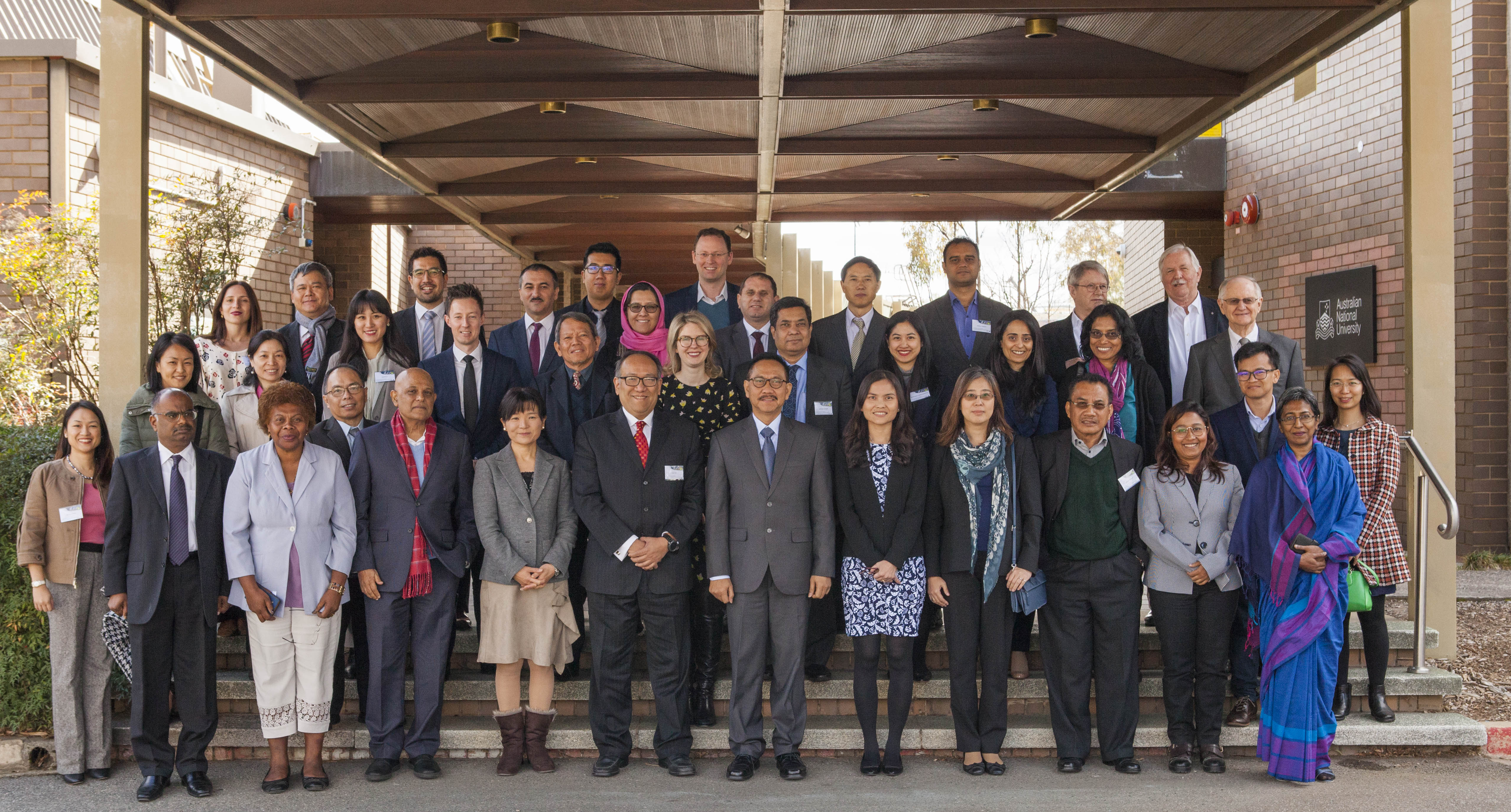 About the forum
This year's ADB-Asian Think Tank Development Forum will provide a venue to share ideas and experiences among affiliated scholars on the human capital and skills development for future jobs by attempting to explore the following questions:
What are the examples of existing human capital and skills development programs and interventions that can boot the productivity and employability workers for future jobs? What are the emerging technologies that are available to foster human resource and capital development (labor force participation, health, and education), and boost productivities? How effective are the existing programs, if any?
What is the role of regional cooperation in addressing the challenges associated with the development of human capital and skills? Can Asia collectively provide a better platform to efficiently and effectively develop and manage physical, financial, and human resources, for example, by building supportive infrastructure to broaden access to technology and improve cross-border labor and student mobility?
Forum Materials, which comprise materials discussed during the forum, e.g., regional overviews and selected countries' perspectives on innovation and inclusive growth.
Agenda
Wednesday, 22 August 2018
Day 1
Thursday, 23 August 2018
Day 2
Session 5: Country Paper Presentations Part II

Moderator:

Khan Ahmed Sayeed Murshid, Director General, Bangladesh Institute of Development Studies

Bio

Khan Ahmed Sayeed Murshid was awarded a Ph.D. in 1985 by the Faculty of Politics and Economics, Cambridge University for his thesis on food policy. He has continued to work on food policy while at the same time branching out into a number of other research areas, including infrastructure and irrigation, informal and rural credit markets, agricultural markets and value chain finance, human resource development and policy research. He has published extensively in top development journals including the Bangladesh Development Studies, the European Journal of Human Development, World Development, Journal of Agrarian Change, Economic and Political Weekly and the Journal of Development Studies. He also has to his credit numerous other publications in the form of research reports, monographs and contributions to various edited volumes. Dr. Murshid combines extensive research experience with familiarity with a wide range of development settings in addition, including Bangladesh, sub-Saharan Africa, Sri Lanka, Indonesia, Pakistan, Myanmar, Thailand, Vietnam, Laos and Cambodia.

Paper Presentations:

09:00—

Vocational Training and Labour Market Transitions: A Randomised Experiment Among Cambodian Disadvantaged Young Adults

Chandarany Ouch, Economics Unit Head, Cambodia Development Resource Institute

Bio Paper Presentation

Chandarany Ouch is a Research Fellow and Head of Economics Unit at the Cambodia Development Resource Institute (CDRI). She joined CDRI since 2003 and she has been a project leader/member of various research projects and engaged in project management and collaborative research at national and regional levels. She currently leads project on: 1) "Vocational training and labour market transitions: A randomised experiment among Cambodian young adults"; 2) "The contribution of vocational skills development to inclusive industrial growth and transformation: An analysis of critical factors in Cambodia"; and 3) "Cambodia gender economic assessment". She is also a coordinator of project on "Agricultural trade between China and GMS countries: Value chain analysis" and "Industry 4.0: Prospects and challenges for Cambodia's manufacturing sector".

Her research interests include labour economics, experimental economics, development economics and applied microeconomics. She has published in the Journal of Comparative Economics and Population and Development Review and at the Institute of Southeast Asian Studies (ISEAS), Singapore. Chandarany completed a PhD in Economics at Monash University, Australia. She also holds a Master in Public Policy from Lee Kaun Yew School of Public Policy, National University of Singapore.

09:20—

The Role of Private Sector in Human Capital and Skill Development in Thailand

Boonwara Sumano Chenphuengpawn, Research Fellow, Thailand Development Research Institute

Bio Paper Presentation

Boonwara Sumano Chenphuengpawn is Research Fellow Sectoral Economics Program (SEP) at the Thailand Development Research Institute. Some of her recent publication were Human Rights are becoming part of Trade Standard (12 October 2016); Let's Demand more from Donations (10 Agusut 2016); Plugging the Public Information gap on the AEC (9 December 2015) and Panel Report Diffusion and the Future of EU-ASEAN Economic Relations. She holds a Doctor of Philosophy from the Queen of Mary, University of London, United Kingdom. Master of International Affairs from The Australian National University, Canberra Australia.

10:00—

Coffee Break

Session 6: Country Paper Presentations Part III

Moderator:

Zakariah Bin Abdul Rashid, Executive Director, Malaysian Institute of Economic Research

Bio

Zakariah bin Abdul Rashid currently is the Executive Director of the Malaysian Institute of Economic Research (MIER) and an Emeritus Professor of Universiti Putra Malaysia. He was a Professor of Economics at the Universiti Putra Malaysia and had served as Head of Economics Department and Deputy Dean of School of Graduate Studies of the university. While serving the university he taught various economic subjects at undergraduate and post-graduate levels, supervised master and doctoral research works, published books and academic articles in local and international journals, delivered papers in seminars and conferences and edited journal articles. He is principle investigator to many research projects and consultant to many research institutes and local (MIER, EPU, UPENs (Selangor, Pahang, Kelantan, Perak, Negeri Sembilan and Johore)) and international (ASEAN Secretariat, ERIA, ESCAP, ADB, ADBI, UNIDO) organizations.

He helped the Government of Malaysia, constructing Social Accounting Matrix, in formulating poverty and income distribution policy during the Ninth Malaysia Plan. Currently he serves as a member of National Wage Consultative Council and National Wage Consultative Technical Committee, assisting the Government of Malaysia in setting minimum wage. He is now developing CGE energy economics, ASEAN's AEC and structural change of the Malaysian economy. He was a visiting fellow at the Chr. Michelsen Institute, Bergen, Norway. He constructed input-output tables for states of Selangor, Johore, Perlis and Negeri Sembilan and undertook Khazanah's study on the contribution of GLCs on the national economy. He always being invited to deliver lectures in Malaysia and overseas on many current economic issues, quarterly macroeconomics monitoring; and in networking with regional research organizations (RINM, JETRO, DeFINE(OECD) and BRI). HE is an adjunct professor at UUM. He specializes in Development Economics and Regional Economics with special focus on Input-output Economics, CGE and SAM.

His contact address is Malaysian Institute of Economic Research (MIER), JKR 606, Jalan Bukit Petaling, 50460 Kuala Lumpur, Tel: (606) 2242 5897, 2142 5895, Fax: (603) 2141 0131, email: zakariah@mier.po.my

Paper Presentations:

10:20—

Overcoming Double Income Traps in Thailand and Myanmar

Ngu Wah Win, Deputy and Migration Expert, Center for Economic and Social Development; Myanmar Coordination in Migration Management

Bio Presentation

Ngu Wah Win is presently working as senior policy coordinator at the Centre for Economic and Social Development, in independent thinktank dedicated to inclusive development in Myanmar. Ngu Wah contributed to many reform initiatives in Myanmar, including public financial management and tax reforms, agriculture value chain developments, labor market and migration governance, and housing and urban planning initiatives. In 2015, she worked for the Advisory Group of the National Disaster Management Committee, which produced a comprehensive damage and loss assessment jointly undertaken with the World Bank and several government ministries following the deadliest floods in Myanmar at that year. She is presently a member of Myanmar Statisticians Association, Agriculture Policy Unit and other inter-ministerial taskforce tasked with conducting policy analysis and research studies for the government. She holds the Master of Public Administration on Economic Policy Management from Columbia University as well as master degrees from Chiang Mai University and Yangon University of Economics.

Session 7: Policy Recommendations and Way Forward

11:30—

Forum Summary and Recommendations

Venkatachalam Anbumozhi, Senior Economist, The Economic Research Institute for ASEAN and East Asia (ERIA)
Bio

Anbumozhi Venkatachalam is a Senior Economist at the Economic Research Institute for ASEAN and East Asia (ERIA), Indonesia. His previous positions include Capacity Building Specialist and Senior Fellow at the Asian Development Bank Institute, Assistant Professor at the University of Tokyo, Project Manager and Senior Policy researcher at the Institute for Global Environmental Strategies, Assistant Manager at Pacific Consultants International, Tokyo and Research Associate at Asian Institute of Technology, Thailand. A distinguished fellow at the Asia Pacific Rim University (APRU) Forum on Development and Environment, he also advised ADB, JICA, JBIC, UNESCAP projects on sustainable development. He has published several books, authored numerous research articles and produced many project reports on natural resource management, climate friendly infrastructure design, and private sector participation in green growth. Anbumozhi was invited as a member of the APEC expert panel on Climate Finance, G20 Task Force on Green Finance on and the ASEAN panel for promoting climate-resilient growth. He has taught resource management, international cooperation and development finance at the University of Tokyo and has speaking engagements at some of the leading international organisations. He obtained his PhD from the University of Tokyo.

Aiko Kikkawa Takenaka, Economist, Asian Development Bank
Bio

Aiko Kikkawa Takenaka is Economist at the Economic Research and Cooperation Department of the Asian Development Bank. She covers research portfolio of labor migration and remittances, aging and demographic changes, and regional research collaboration. From 2001 to 2010, she was with the International Organization for Migration (IOM), and served as the Head of Labor Migration Unit in Manila, the Philippines, overseeing projects and activities in the area of labor migration and remittances. Ms. Kikkawa Takenaka obtained her Ph.D. in International Development Studies /Development Economics from National Graduate Institute of Policy Studies, Japan, and Master's degree in Forced Migration from University of Oxford, UK.

11:50—

ATTN Way Forward

Cyn-Young Park, Director, Regional Integration and Cooperation Division, Asian Development Bank

Bio

Cyn-Young Park is Director of the Regional Cooperation and Integration Division in the Economics Research and Regional Cooperation Department of the ADB. In her current capacity, she manages a team of economists to examine policy issues related to regional cooperation and integration (RCI) and develop strategies and approaches to support RCI. Her team also produces the Asian Economic Integration Report, an annual publication on the progress of regional economic integration and policy challenges. During her progressive career within ADB, she has been a main author and contributor to ADB's major publications including Asian Development Outlook (ADB's flagship publication), Asia Capital Markets Monitor, Asia Economic Monitor, Asia Bond Monitor, and ADB Country Diagnostic Study Series. She has also participated in various global and regional forums including the G20 Development Working Group, Association of Southeast Asian Nations (ASEAN), ASEAN+3, Asia-Pacific Economic Cooperation (APEC), and Asia-Europe Meeting (ASEM). She has written and lectured extensively about the Asian economy and financial markets. Prior to joining the ADB, she served as Economist (1999-2002) at the Organisation for Economic Cooperation and Development (OECD), where she contributed to the OECD Economic Outlook. She received her PhD in Economics from Columbia University, and bachelor's degree in International Economics from Seoul National University.

12:00—

Closing Remarks

Shiro Armstrong, Director; Fellow, Australia-Japan Research Centre; East Asian Bureau of Economic Research; Crawford School, Australian National University

Bio

Shiro Armstrong is an Economist and Fellow at the Crawford School of Public Policy. He is Director of the Australia-Japan Research Centre, Editor of the East Asia Forum, Director of the East Asian Bureau of Economic Research and Research Associate at the Center on Japanese Economy and Business at the Columbia Business School.

Shiro is a recipient of an Australian Government Endeavour Research Fellowship, Gary Saxonhouse Prize Fellowship for Japanese Economics, Crawford Award for best research paper on the Japanese Economy, Japan Foundation Fellowship, Pacific Trade and Development Conference (PAFTAD) Fellowship, Vice-Chancellor's Staff Excellence Award for Public Policy and Outreach and twice the Vice Chancellor's Award Innovation and Excellence in Service Quality.

He has been a Visiting Fellow at the Center on Japanese Economy and Business at Columbia University, the John F Kennedy School of Government at Harvard University, China Centre for Economic Research at Peking University and the University of Tokyo.

12:10—

Lunch Break